Anonymity Overdose - How our opioid crisis and shell companies are linked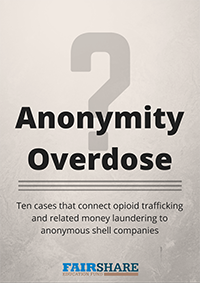 Aug. 1, 2016 -- Opioid deaths now exceed those from motor vehicle accidents. It's clear we need to do more. Fair Share Education Fund's latest report, "Anonymity Overdose," connects opioid trafficking and the subsequent crisis with the activities of anonymous shell companies – companies formed with no way of knowing who is actually in charge. Because they shield the owners from accountability, anonymous shell companies are a common tool for disguising criminal activity and laundering money, and are also at heart of the Panama Papers.
"Anonymity Overdose" found 10 case studies that show the connection between the use of anonymous shell companies and opioid trafficking and related money laundering. In one such example, Kingsley Iyare Osemwengie and his associates were found to use call girls and couriers to transport oxycodone, and then move profits through an anonymous shell company aptly named High Profit Investments LLC.
Meanwhile, the crisis is taking an increasing toll on the nation. According to the Centers for Disease Control (CDC) , in 2014 there were approximately one and a half times more drug overdose deaths in the United States than deaths from motor vehicle crashes. Since 2000, the rate of deaths from opioid related overdoses has increased 200%. The CDC refers to the opioid crisis as an epidemic.
"The opioid problem has been profoundly felt by our communities, health care workers and law enforcement officials," said Nathan Proctor, co-author of the report and national campaign director with Fair Share Education Fund. "We should be doing everything in our power to address this crisis. We can add to those efforts by ending the use of anonymous shell companies."
"Shell companies that can be formed in the shadows with little transparency have been used to promote drug trafficking, money laundering, and fraud against the United States government.  This makes it difficult for law enforcement to determine the real person behind a company and its illegal activity.  The Incorporation Transparency and Law Enforcement Act would require companies to provide information on their beneficial owners, for use by law enforcement as they build a case against these bad actors.  The bill would help ensure that criminals cannot hide behind shell companies to conduct illegal activities.  So, this is yet another way to attack crises like the opioid epidemic that is taking root in communities across our country," said Senator Chuck Grassley, a cosponsor of the bill and Chairman of the Senate Judiciary Committee and Co-Chairman of the Senate Drug Caucus.
The report uses perspectives provided by law enforcement officials as well as federal court cases to highlight the role that ending anonymous shell companies could play in addressing the crisis.
"We know the drug cartels are in it for the money – and to stop them we need to go after their profits," said John Cassara, former special agent in the U.S. Treasury with the Office of Terrorism Finance and Financial Intelligence, whose work helped inform the report. "Anonymous shell companies make that work much more difficult for law enforcement. We need to do more than just bust the street level distributors, we need to go after the real kingpins, and to do that we need better tools to follow the money."
The report shows how ending the use of anonymous shell companies could make it significantly harder to keep drug profits safe from law enforcement. There is currently bipartisan legislation, the Incorporation Transparency and Law Enforcement Assistance Act, in both the House and Senate which would require the collection of information about the true owner of a company, and make sure law enforcement has access to that information.
"Drug traffickers regularly set up anonymous shell companies. In fact, the U.S. is one of the easiest places in the world to do so," said Gary Kalman, executive director of the FACT Coalition, a non-partisan alliance of more than 100 state, national, and international organizations in support of shell company reform. "Congress should immediately pass bipartisan legislation to end the secrecy and give cops and prosecutors the tools they need to go after drug cartels and others who threaten the safety and security of our communities."
"Anonymous shell companies are bad for America and the whole world for a number of reasons," added Proctor. "They are used to defraud Medicare, conduct predatory scams on working class people and avoid taxes. But their role in drug trafficking is just another reason we need our lawmakers to take action and end anonymous shell companies."
Cases in the report also include that of Owen Hanson, a former USC athlete who ran a complex drug trafficking, money laundering and illegal gambling ring. The Los Zetas cartel, who invested their drug profits in racehorses in Oklahoma, giving them names such as 'Morning Cartel'. Fernando Zevallos, founder of an airline in his native Peru, and who is behind bars, yet his drug trafficking operation continues through his family ties.
To download the report, click here.