Opioids Becoming National Emergency: Time to Go After the Money
As the president declares that the opioid epidemic is a national emergency, our own research shows that we can fight opioid deaths by banning anonymous shell companies, often used to launder drug money. 
Here is a summury from our report "Anonymity Overdose" which was released last year: 
Opioid deaths now exceed those from motor vehicle accidents. It's clear we need to do more. Fair Share Education Fund's latest report, "Anonymity Overdose," connects opioid trafficking and the subsequent crisis with the activities of anonymous shell companies – companies formed with no way of knowing who is actually in charge. Because they shield the owners from accountability, anonymous shell companies are a common tool for disguising criminal activity and laundering money, and are also at heart of the Panama Papers.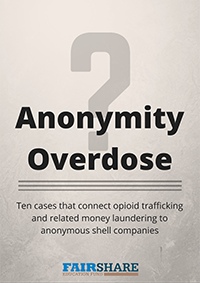 "Anonymity Overdose" found 10 case studies that show the connection between the use of anonymous shell companies and opioid trafficking and related money laundering. In one such example, Kingsley Iyare Osemwengie and his associates were found to use call girls and couriers to transport oxycodone, and then move profits through an anonymous shell company aptly named High Profit Investments LLC.
Meanwhile, the crisis is taking an increasing toll on the nation. According to the Centers for Disease Control (CDC) , in 2014 there were approximately one and a half times more drug overdose deaths in the United States than deaths from motor vehicle crashes. Since 2000, the rate of deaths from opioid related overdoses has increased 200%. The CDC refers to the opioid crisis as an epidemic.
"The opioid problem has been profoundly felt by our communities, health care workers and law enforcement officials," said Nathan Proctor, co-author of the report and national campaign director with Fair Share Education Fund. "We should be doing everything in our power to address this crisis. We can add to those efforts by ending the use of anonymous shell companies."